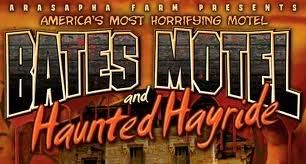 I am so stoked to share with everyone that I have the honor of being hired as an actor at
Arasapha Farms Bates Motel and Haunted Hayride
for the 2010 Halloween season!!!
We have attended their hayride, corn maze and haunted house for several years, and this is definitely one of the premiere pro haunts in the country! Having the privilege of being an actor there is beyond belief! I live about 10 minutes from this kick-ass site, and pass it daily on my commute to work.
Just had to share, and will definitely discuss my experience to the extent I am allowed to share.
Happy Halloween, boils and ghouls!! I am about to embark on a life long dream. Wish me luck!!