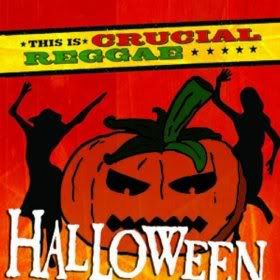 Original Release Date: October 10, 2006
Label: Trojan Records

At this time of the year, we all love to dust off the ole music collection and play some of our favorite Halloween tracks. Then again, I'm sure most of us are playing this stuff all year round!
I first picked up this collection a few years ago, and love it. It's not your standard Halloween-themed music as it is mostly dub, and features some reggae greats. It's a lot of fun and the perfect background for your party, or just cruising the road on a warm October day.
Here's the spooky track listing:
"Dracula Prince of Darkness" - King Horror
"The Vampire" - The Upsetters
"Doctor Satan Echo Chamger" - The Success All Stars
"Dracula" - The Vulcans
"Kill Them All" - Lee "Scratch" Perry
"Ten to Twelve" - The Upsetters
"Blacula" - The Crystalites
"Bells of Death" - Augustus Pablo
"Spooky" - Boris Gardiner
"Disco Devil" - Lee "Scratch" Perry
Any disc that includes a song about Blacula is all right in my book! Pick it up, crack open a Red Stripe and ring in All Hallows with a little reggae, mon.