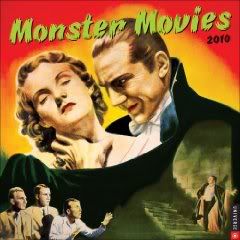 Ooooh ooooh oooh - guess what I want for Christmas? What better way to celebrate the Universal monster gang than a monthly calendar.
And how sweet is this product description?
"From Dracula to The Creature from the Black Lagoon, Universal Studios' classic monsters have held movie audiences in the grip of fear for generations. A must for all lovers of the midnight creature feature, Monster Movies 2010 may not tell you "What goes bump in the night?" but it makes the chilling question infinitely more exciting."
http://www.amazon.com/Monster-Movies-2010-Wall-Calendar/dp/0789319543/ref=pd_sim_b_4