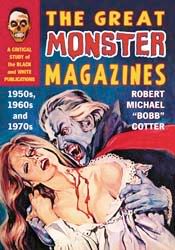 The Great Monster Magazines
A Critical Study of the Black and White Publications of the 1950s, 1960s, and 1970s
By Robert Michael "Bobb" Cotter
I talked about this great book a few Hauntcasts ago, and wanted to point it out again to all monster and comics kids out there. It was a really nice survey and history of the monster magazine, and definitely recommended.
The Official Johnny Thunder Scary Seal of Approval!
http://www.mcfarlandpub.com/book-2.php?id=978-0-7864-3389-6